About Amy
Amy Fenton Lee received her undergraduate and master's degrees in accounting from Baylor University and the University of Alabama, respectively. Upon graduation, Amy pursued a career as a certified public accountant with a national accounting firm. More recently, she enjoyed a decade in sales & marketing roles in global companies targeting the architectural interiors industry. For two years after her son's birth, Amy was a working mother.
Now a stay-at-home mom, Amy writes to address common hurdles women similarly face. Her pieces have been featured in a variety of national, regional, Christian and secular publications. Amy is most proud of her research and ensuing articles educating the "typical" world in reaching out and relating to families of individuals with special needs.
Amy's father, Gary Fenton, is the senior pastor of Dawson Memorial Baptist Church in Birmingham, Alabama. As the daughter of a minister, Amy grew up with a natural desire to help people struggle through suffering and grow in a relationship with Christ. That hope and message is a common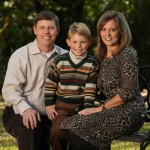 theme in Amy's writing and speaking. She especially enjoys addressing relational etiquette and character development for a target audience of women ages 25 to 45. As a regular contributor to a number of ministry-minded publications, Amy also writes to equip church staff and lay ministers who serve this same group. In addition to being published in several secular parenting publications, Amy is the monthly "Back to the Basics" feature writer for Forsyth County, Georgia's Up in Cumming Magazine (circulation of 55,000).